Welcome to my stop on the Book Blast, presented by

Reading Addiction Virtual Book Tours

, for

Everything I've Dreamed About

by Norah Bennett. Please leave a comment or question for Norah to let her know you stopped by. You may enter the tour wide giveaway by filling out the Rafflecopter form below. Good Luck!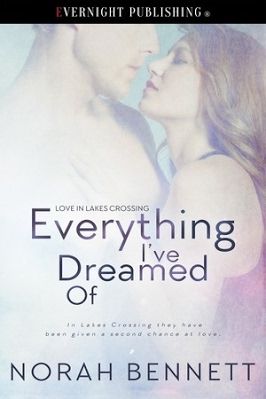 Everything I've Dreamed About
Love in Lakes Crossing, Book 2
Kate Willowbrook dreamed of a life filled with beauty –– a man who loves her, friends, and a home. At eighteen, Kate's dreams were replaced by nightmares when she witnessed a crime. Kate fled, never settling down and never trusting anyone until at the age of the thirty, she discovers the small town of Lakes Crossing and CEO, Noah Reed.
When Noah's wife was killed in an accident, his world exploded. Noah settled for an empty, loveless life until the day he met Kate. When he learns about Kate's past and finds she is still in danger, Noah takes over, becoming over-protective—to the point Kate feels stifled and controlled.
As Noah and Kate struggle to put the past behind them and find a balance that fulfills both their needs, they learn that there are no guarantees in life, but in Lakes Crossing they have been given a second chance at love.
Kate pierced him with her green eyes. "I'm certain there's no shortage of women who would be happy to go out with you. Why me?"




Noah's cocky grin faded into a soft smile that stole her breath. His eyes darkened as he focused on her. She could feel the heat creeping up her cheeks again, and she couldn't believe she'd asked him that question. She didn't even know why she had, except that she wanted to hear his answer. If she let herself fall for this beautiful man with the killer smile and the softest brown eyes in the world, she'd fall hard and fast. If she were just a toy to him, one that he got bored of and discarded after a while, she'd be devastated. She had lost so much already and survived, but Kate wasn't sure she could survive his games. If she allowed herself to hope and dream of a life with Noah but then lost it all, she'd crumble, and no amount of superglue would put her back together.




Kate waited for his answer, her eyes locked with his, and he didn't let her down.




"Yes, I won't deny that I've dated other women and there are those who wouldn't turn me down for a date, but they're not you."




Noah reached for her hand, and she let him feel the tremble that ran through her as he engulfed her small hand in his. He raised her hand to his mouth and kissed her fingers, never taking his gaze off her.




"You say you're not special to anyone, but that's not true. I see something special, someone special. I know we don't know each other very well, but if you give us a chance to change that, together, we may be something special. We won't know unless we try."




Kate's breath hitched, and her heart squeezed. Jesus, the man had a way with words. How did he know what she needed to hear? Now she understood what Roberta Flack meant when she sang "Killing Me Softly." He was clawing at the door to her heart, and she didn't think she was strong enough to resist him, even knowing that she may get shredded if she let him in.




Kate dropped her gaze again as her eyes began to fill. Her breathing was ragged, and her heart broke its confines and was on the run. Whether it wanted to be caught by Noah or not, Kate wasn't certain.




Kate had waited thirty-one years to hear someone call her special. She struggled to rein in her emotions and push back the tears that threatened to roll down her cheeks. She wanted to go out with Noah so badly it hurt. She wanted to get to know him and to be a part of his world, but she was terrified. Good visited her very few times in her life. The instant it arrived, she began preparing for its departure. Good was a temporary visitor, and a fickle one at that.




"Come on, Kate. I can sense you're afraid. I swear I'm a nice guy. I'll do my damnedest not to disappoint or hurt you. Take a chance. Take a chance on me."




Kate heard the vulnerability in Noah's voice. She explored his handsome face, a face she was sure she would never tire of admiring. All traces of his earlier cockiness vanished. Instead, it was replaced by a rawness, an earnestness, a tenderness she'd never seen before. That was the look Kate would remember for a lifetime. Years from now, she would say that was the exact moment she knew, if Noah Reed asked her, she would be his for a lifetime.




Kate let out a slow breath and with a soft smile, she whispered, "Okay, Noah Reed. I'll take a chance…a chance on you. I'll go out with you."
Norah lives a double life. By day she is a suit-wearing, prim and proper, professor, administrator, researcher, and lecturer. By night she is a PJ wearing dreamer and writer of books that make people sigh, smile, cry, laugh, fall in love and believe in second chances. She lives in a small town deep in the woods of Northwest Jersey with her husband of thirty years, a 160 lb great dane puppy, a cranky geriatric maltipoo, and an obnoxious cockatoo who runs the house and terrifies all its inhabitants.
Norah discovered the joy and escapism that comes from reading at the age of twelve and swears books saved her life and her sanity. Through reading, she has travelled the globe and learned all kinds of equally useful and useless skills such as the proper way to eat a pomegranate, carve a watermelon, or bathe an elephant. These are skills she has passed down to her two daughters who are incredibly supportive, but often wish she had a wider scope of hobbies. Website: http://www.norahbennett.com