Welcome to my stop on the Promo Blitz, presented by
Reading Addiction Virtual Book Tours
, for
Precious Bones
by Mika Ashley- Hollinger. Please leave a comment or question for Mika to let her know you stopped by.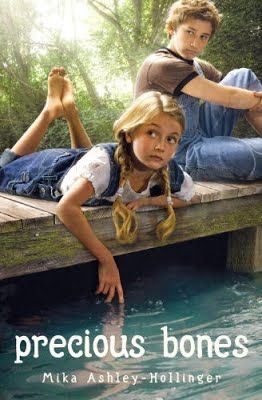 Young Adult


Meet ten-year-old Bones, whose playground is the Florida swamps, brimming with mystical witches, black bears, alligators and bobcats. Bones' father, Nolay, a Miccosukee Indian, is smart and mischievous. Her Mama, practical as corn bread, can see straight into Bones' soul.
It's summer, and Bones is busy hunting and fishing with her best friend, Little Man. But then two Yankee real estate agents trespass on her family's land, and Nolay scares them off with his gun. When a storm blows in and Bones and Little Man uncover something horrible at the edge of the Loo-chee swamp, the evidence of foul play points to Nolay. The only person that can help Nolay is Sheriff LeRoy, who's as slow as pond water. Bones is determined to take matters into her own hands. If it takes a miracle, then a miracle is what she will deliver.

Praise for Precious Bones:


"…a tale that will already hold high interest for nature-loving readers longing for their own wild playgrounds."—The Center for Children's Books
"The names of the characters alone make this a novel worth reading. How can you resist Bones, Little Man, Nolay, Soap Sally and Mr. Speed?!? Each character is as distinctive as the name they carry and the adventures they have."—Random Acts of Reading
"Precious Bones is a novel filled with adventure and mystery, as well as fascinating glimpses of its distinctive setting."—Kevin Delecki, BookPage
"I won't be the last person to compare Mika Ashley-Hollinger's amazing debut novel, Precious Bones to Harper Lee's iconic To Kill A Mockingbird."—Mindy McGinnis, author of Not a Drop to Drink
"An intriguing debut, written lovingly to a way of life now lost."—Booklist
"It's a rich stew, including hearty dollops of mystery and suspense."—The Horn Book
"Her voice is strong and lyrical, mixing regional syntax and dialect with lovely descriptions of the beauty she sees as she hunts, fishes, observes and explores in this mystical place."—Kirkus Reviews
"Like an age-appropriate To Kill a Mockingbird, it's Bones's interactions with well-developed, often-eccentric characters that shape this story."—Mahnaz Dar, School Library Journal
"Mika Ashley-Hollinger's debut book is full of suspense and surprise…I love Bones' easy-going nature and adventurous spirit. She's ready to rush off into battle to defend herself and those she loves, no matter the dangers. And I want her pet raccoon, too! "—Jack and Jill Magazine


About the Author
Mika Ashley-Hollinger was born and raised in the small community of Florida. PRECIOUS BONES is written in tribute of a time and a way of life that no longer exist.
Contact Links