Welcome to my stop on the Blitz, presented by

Reading Addiction Book Tours

, for

Knights in Time

by Chris Karlsen. Please leave a comment or question for Chris to let her know you stopped by. You may enter her tour wide giveaway by filling out the Rafflecopter form below. You may follow all of the stops on the tour by clicking on the banner above. Good Luck!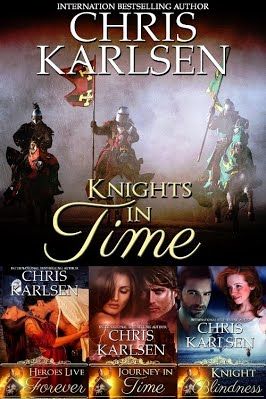 HEROES LIVE FOREVER
Elinor Hawthorne has inherited a house haunted by two medieval knights, Basil Manneville and Guy Guiscard. Basil is literally the knight of her dreams. She never expected to "meet" a ghost face to face let alone fall in love with one. Living the normal life together that they'd want is impossible unless fate intervenes.
A lifetime later fate does intervene. Basil, still in love with Elinor, is told her spirit lives on in a young woman. He is given another chance at life to find her.
JOURNEY IN TIME
The budding romance between London attorney, Shakira Constantine, and her client, Alex Lancaster is put to the test when the couple finds themselves torn through time back to the medieval world. It's a world Alex has a strong connection to, a connection that will cost him his life unless they can find a way to return to this time. Without him, Shakira is condemned to live in a dangerous medieval world alone.
Together they'll struggle to discover a way back to the modern world while dealing with the political and social intrigues of 14th Century England. The intrigues of that world all too often work against their efforts to get home.
KNIGHT BLINDNESS
Stephen Palmer, a wounded medieval knight finds himself torn through time from the battlefield to the modern and alien world. Seriously injured, he now must make his way in a world he has no context for and no knowledge about.
Esme Crippen is hired as his tutor. Love is something he does understand and as the two fall into love, they both must overcome the fact the world thinks him mad with his time-travel talk, including Esme.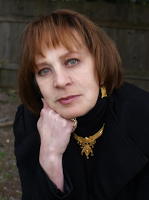 I was born and raised in Chicago. My father was a history professor and my mother was, and is, a voracious reader. I grew up with a love of history and books.
My parents also love traveling, a passion they passed onto me. I wanted to see the places I read about, see the land and monuments from the time periods that fascinated me. I've had the good fortune to travel extensively throughout Europe, the Near East, and North Africa.
I am a retired police detective. I spent twenty-five years in law enforcement with two different agencies. My desire to write came in my early teens. After I retired, I decided to pursue that dream. I write three different series. My paranormal romance series is called, Knights in Time. My romantic thriller series is Dangerous Waters. The newest is The Bloodstone Series. Each series has a different setting and some cross time periods, which I find fun to write.
I currently live in the Pacific Northwest with my husband and four wild and crazy rescue dogs.