"Waiting on" Wednesday is a weekly event hosted by Jill at

Breaking the Spine

which highlights upcoming release we are eagerly anticipating.

This week's pre-publication "can't-wait-to-read" selection is Death Rival (Jayne Yellowrock #5) by Faith Hunter.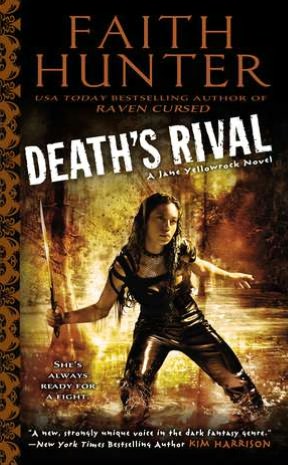 Author: Faith Hunter
Release Date: October 2, 2012
Jane Yellowrock is a shapeshifting skinwalker you don't want to cross—especially if you're one of the undead…
For a vampire killer like Jane, having Leo Pellisier as a boss took some getting used to. But now, someone is out to take his place as Master Vampire of the city of New Orleans, and is not afraid to go through Jane to do it. After an attack that's tantamount to a war declaration, Leo knows his rival is both powerful and vicious, but Leo's not about to run scared. After all, he has Jane. But then, a plague strikes, one that takes down vampires and makes their masters easy prey.
Now, to uncover the identity of the vamp who wants Leo's territory, and to find the cause of the vamp-plague, Jane will have to go to extremes…and maybe even to war.
Why I'm Waiting For This Book: I began reading Faith Hunter's Rogue Mage books and fell in love with her style of writing. When she released her second series, Jayne Yellowrock, I immediately started reading the books as they came out. While I'm not overly fond of the cover for this book ( I liked the covers for all of the previous books in this series), it's Ms. Hunter's writing which keeps me coming back for more. Plus I need to know what's going to happen between Jayne and Leo Pellisier in the long run.
~~~~~~~~~~
What's your "waiting on" pick this week?

Want to play along? Just post your WoW entry on your blog and leave your link at

Breaking the Spine

and below.