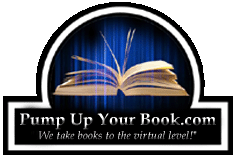 Join me in welcoming Lakeysha-Marie Green, author of the fashion/self-help book,

The Seeds of Beauty:Defining Your Beauty From the Inside Out

, as she tours the blogosphere June 17 – September 13, 2013 on her first virtual book tour with

Pump Up Your Book!

You can follow her tour here. Enter her tour-wide giveaway below.
The Seeds of Beauty: Defining Your Beauty and Style from the Inside Out.
Publisher: BeautyBodyStyle, LLC.
Release Date: June 7, 2013
Genre: Non-Fiction/Self-Help
Book Description:
What's the real secret to radiant beauty? It may come as no surprise that how we look on the outside is directly connected to the beauty deep inside us. What's more, when we are burdened with the weight of low self-esteem, it's all-too-visible in our physical appearance. That's why a truly successful makeover begins by reconnecting with who we are at our very core—long before the swipe of the credit card or snip of the shears.
Now, fashion stylist Lakeysha-Marie Green has written a groundbreaking new guide to developing show-stopping beauty from the inside out. Inspirational and easy to use, The Seeds of Beauty seamlessly joins the key elements of inner beauty with savvy, expert style advice on making the most of your own physical attributes. Addressing both of these all-important parts of true beauty, this gorgeous resource comes together in one illuminating journey that looks as fabulous as it feels.
In Part One, "Beauty Within," you'll learn to build a foundation of self-love, exploring subjects such as acknowledging your value, developing resilience and finding the courage to move forward.
Part Two, "Beauty Reflected," offers you practical advice on wardrobe fundamentals to bring out your beauty and create a winning style, such as working with your body type, selecting your best colors, choosing a swimsuit, and even building a shoe wardrobe.
Unlike other fashion and beauty makeover books on the market, The Seeds of Beauty challenges you to discover just why you are uniquely beautiful on the inside. Once you have embraced your own brand of beauty, you'll be truly motivated to master the building blocks to accentuate your appearance—and glow with your own exquisite beauty from the inside out.
Buy Links
ABOUT LAKEYSHA-MARIE GREEN
Author Lakeysha-Marie Green is no stranger to tackling style dilemmas. A fashion stylist and former women's fit technologist, her extensive experience in the fashion industry taught her the importance of fit, fashion, and effortless style. Her penchant for creativity led to her work in editorial magazines, international film premieres, and advertising.
Passionate about helping women to look their best, Lakeysha-Marie has contributed her style expertise on television and in print publications. Inspired by her own roller coaster ride to self-discovery, Lakeysha-Marie began writing to illustrate the potential for transformation that lies within us all. She holds a degree in fashion design & merchandising, with continued coursework in styling & photography from the London College of Fashion.



Seeds of Beauty

by Lakeysha-Marie Green was not quite what I expected. I expected this book to be a "how-to" guide about what we do to beautify ourselves on the outside, and while that certainly is a part of the conversation in Ms. Green's book, this turned to be so much more. It's really more of what I'd like to call a "build your self esteem" guide because in Ms. Green's view – to look beautiful – you have to believe in yourself and in your own beauty.




Starting in the preface (yes, you want to read the preface in this book), Ms. Green tells us about herself – how she learned that "Worrying, as you know, hardly gets anyone anywhere", and about how with just the touch of her niece's little hand reminded her that there is more to our existence than anxiety. Ms. Green then takes us through the first part of her book where the emphasis is on the value we each bring to the world and on the importance of our existence.




In part one of this book each chapter begins with a quote from someone through history who achieved something great – from poet Tennyson to William Shakespeare to George Eliot. Each chapter focuses on one aspect of building self worth – and ends with what she calls a "Beauty Brainstorm"; basically a set of questions which can be used to examine yourself to see how much you already know or have gleamed from the chapter you just finished.




In part two of this book, Ms. Green focuses more on improving your appearance on the outside. She focuses on helping you identify your "body style", based on your natural figure and on how to dress in a balanced way and still be able to present a good silhouette for others to see. Ms. Green also shows us how to achieve fashion sense – from "basics" that should be in every woman's wardrobe to adding color to our lives, shiny belts to add bling and the right shoes to accessorize it all.




Overall, I really found this to be a wonderful self-help/fashion book and was impressed with Ms. Green's presentation. Adding the perfect sketches, made it easy to see as well as read her instructions. I know I'll be using this as a primer in my own beauty routine (both inward and outward) from now on and look forward to seeing what else Ms. Green publishes on beauty and fashion.




My rating: 4.5 out of 5 Crowns








FTC Disclosure: I received a complimentary copy of this book as a part of a book tour in exchange for a fair and honest review.
Pump Up Your Book and Lakeysha-Marie Green are teaming up to give you a chance to win a $100 Macy's gift card and a $50 Sephora gift card!
Each person will enter this giveaway by liking, following, subscribing and tweeting about this giveaway through the Rafflecopter form. This promotion will run from June 17 – September 13. The winner will be chosen randomly by Rafflecopter, contacted by email and announced on September 14, 2013.